Core Chandeliers
---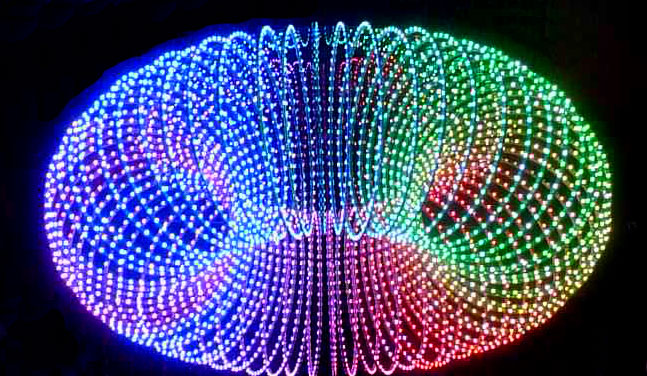 INFO
The Core Chandelier is designed for hanging in nightclubs, bars, casinos, hotels, etc. It will be available in a few different sizes and colors. Customized versions are also possible.

An optional controller is available that can be wall mounted at a remote location via CAT5 cabling. The controller can play built-in effects, along with control of color and dimming. It can also play custom show loops from an SD card. The controller also has a DMX port (RJ45) and effects can be triggered via DMX or Art-Net.

Without the controller, the chandelier can receive Art-Net packets over ethernet, which allows it to be integrated and controlled with external systems. Full RGB control over all LEDs (as double-sided pairs) is possible.
Core 18
| | |
| --- | --- |
| Size | 54 inches wide x 22 inches tall |
| Rings | 18 inch diameter |
| Power | 120 or 220 VAC, 600W maximum, UL Listed power supplies |
| Connections | AC via plug or bare wire connection. Ethernet for control. |
| Weight | Approx 50 lbs |
| LEDs | 7,168 RGB LEDs. 64 rings of 52 double-sided LEDs |
| Color | Black or White (PCB and acrylic disc color) |
| Control | Optional control of all LEDs via Art-Net |
| Mounting | Eye-hook on top side |
| Lead-Time | About 2 months |
| Price | Single quantity starting at $7500 |
Core 12
| | |
| --- | --- |
| Size | 36 inches wide x 16 inches tall |
| Rings | 12 inch diameter |
| Power | 120 or 220 VAC. UL Listed power supplies |
| Connections | AC via plug or bare wire connection. Ethernet for control. |
| LEDs | 2,304 RGB LEDs. 32 rings of 36 double-sided LEDs |
| Color | Black or White (PCB and acrylic disc color) |
| Control | Optional control of all LEDs via Art-Net |
| Mounting | 3 eye-hooks on top side |
| Price | Single quantity starting at $2900 |
---